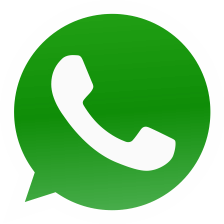 Quick Connect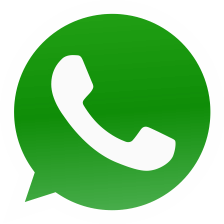 Whatsapp Now

+91-9696960029
About IBT Chandigarh
IBT Chandigarh Infrastructure
Facilities at IBT Chandigarh
New Batches & fees
Special Features
Punjab Patwari
FAQs Of Punjab Patwari
IBT Institute in Chandigarh is one of the renowned Punjab Patwari coaching institutes in Chandigarh. IBT institute has enough experience to cater to the competitive job exams for the government sector for the last few years. We have shown the best outcomes by giving more than 70 percent are successfully qualifying every year. It is rendering the best Punjab Patwari exam coaching in Chandigarh. Our faculty members are well-educated and highly experienced which has made us successfully extend the Punjab Patwari Coaching in Chandigarh and other government job exams.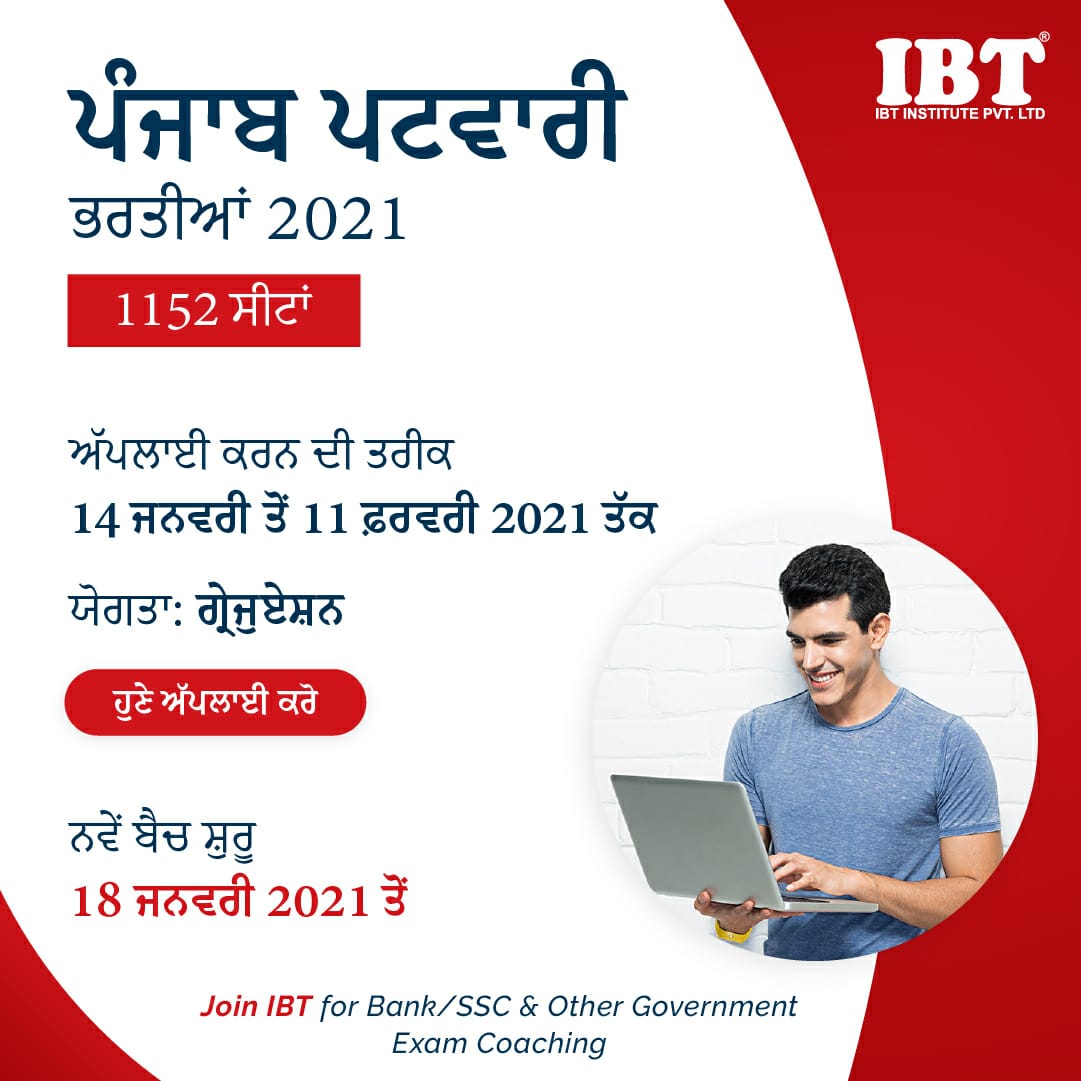 IBT is an apex for Punjab Patwari Coaching Classes in Chandigarh. We offer excellent result-oriented classes for the Punjab Patwari exam. The study modules of Punjab Patwari classes in Chandigarh are framed on the basis of the latest exam pattern and syllabus. We have some salient features that attract the aspirants of the Punjab Patwari exam.
IBT is known for providing the best Coaching in Chandigarh. It is the No.1 coaching institute not only in terms of study but in terms of infrastructure as well.
| | | |
| --- | --- | --- |
| | | |
| Front Desk View | Center's Inside View | Smart Classrooms |
Highlights of IBT Institute
100+ Centers across India

10 Years of Presence

1 Lakh+ Success Stories

ISO 9001: 2008 Certified Coaching Institute

10-12 Book Materials (for Patwari Coaching in Chandigarh)

100+ Class Assignments

100% Topic coverage

100% successful Algorithm

Four Level Practice Program to clear any competitive exam

Computer Lab with more than 1000+ Computer systems (in all branches)

Library with about 8000 Books (in all branches)

Classes from relevant fields experts

Online YouTube Channel- makemyexam

Four Level Practice Program to clear any competitive exam

IOS and Android App for 24*7 practice.
Providing Individual attention

Forms small batches with eminent education

Organizing weekly doubt-clearing sessions

Giving weekly mock session to analyze the performance of the students

Comprehensive study material including solved previous year question papers

Organizing guest lecturers for the best outcomes

Giving a friendly and healthy environment for the students

Free Library Facility

Mock tests are prepared in the house under the supervision and guidance of the subject experts


We are going to start fresh batches for the Punjab Patwari exam soon. IBT staff is highly appreciable and knowledgeable. Anyone can easily learn and understand the comprehensive topics under the supervision and guidance of highly educated faculty members. All of the staff members have enough experience in their related field. The study material provided during Punjab Patwari Coaching in Chandigarh is comprehensive enough to make the concepts clear in an easy way.
Facilities at IBT Chandigarh
Experienced Trainers

IBT Chandigarh has a team of Experienced Faculty members who have years of teaching experience.

Qualified Faculty Members

Online Computer Lab

Our computer lab provides the exact simulation of a Real Exam..! Students can practice for unlimited hours.

Online Lab equipped with Hi-Tech Computers

Life-Time Membership Card

IBT Chandigarh offers Life Time Membership Facility. Students can enjoy Classes till selection.

Membership Card to ensure Selection
IBT Chandigarh is offering a 10 percent discount on Punjab Patwari Coaching in Chandigarh. We are offering a bumper offer on the new batch for Patwari coaching both offline and online. The new batches are going to start this week at IBT Chandigarh. The demo classes for Punjab patwari are currently going on. Feel free to visit your closest branch and grab your seat with such an attractive offer. We offer competitive study material to the students which are designed by the subject experts at our centers. All of our well-educated faculty members will take classes and provide quality coaching to match the standards of the latest exam pattern of Punjab Patwari. This includes a free library facility, mock tests online series, video lectures, and topic tests. All of these materials will be given to the students to ensure their success in the first attempt. The result-oriented study module is weaved to prepare the candidates to face the completion with ease. It will be available with the benefit of LMC (Lifetime Membership Card). We are offering limited seats which will not exceed more than 20 students. The offer is valid till January 20th or until the seats are available. Grab your seat now before it's too late.
Upcoming Punjab Patwari Coaching Batch Fee at IBT Chandigarh
| | | | |
| --- | --- | --- | --- |
| Date | Timing | Course | Fee |
| 18th January | 11 AM - 1 PM | Punjab Patwari | Rs. 12000/- |
Free Study Material

IBT provides free Study Material to all the students. Books Kit contains 7 Books which is updated regularly.


India's Best Selling Study material.

Test Series

IBT provides free Test Series contains 100+ OTests for Examination.


Tests very close to the Final Examination.

Free Monthly Magazine

IBT provides a free Monthly magazine to all the students. The magazine contains Current Affairs and Mock Tests.


Best Magazine for Competitive Exams.
Name

Subject

Qualification

Experience

Keshav Katoch

GK

MA Geography

6+Years of
Experience

Yogesh Redhu

Quantitative Aptitude

B.Tech Ec

6+ Years of Experience

Vijay Yadav

Quantitative Aptitude

MSc Maths

9+ Years of Experience

Kanwaljit Singh

Reasoning

B.Tech Ec

5+ Years of Experience

Anamika Sharma

Reasoning

MBA

5+ Years of Experience

Nitin

English

MA English

12+ Years of Experience

Natasha

English

MA English

3+ Years of Experience

Firdousa

Science

PhD/MSc Chemistry

5+Years of Experience

Surinder

Economics

MA Economics

17+ Years of Experience

Vikas Gill

Harayana GK

4+ Years of Experience

Ashish

Punjab GK

6+ Years of Experience
About Punjab Patwari Recruitment 2021
Punjab Subordinate Services Selection Board (PSSSB) releases notification to recruit Punjab Patwari posts and various other posts around the year. Interested candidates can apply for the posts according to the eligibility criteria laid down by PSSSB. Candidates can get detailed information by visiting the official website http://sssb.punjab.gov.in. PSSSB has released Punjab Patwari Recruitment Notification 2021 on 14 January and is inviting online applications. The necessary information such as eligibility criteria, age limit, syllabus, exam pattern, pay scale, direct links for important events, etc. can be had from our page.
Punjab Patwari Recruitment 2021 official notification is out for 1152 vacancies. Eligible candidates can visit the official website and update themselves with the latest syllabus and exam pattern of the upcoming Punjab Patwari Recruitment 2021. The online registration has been started on 14 January 2021 and will be open till the closing hours of 18 February 2021. The entire selection process comprises two phases namely, written exam and interview session. Aspirants who will qualify for the written exam will be eligible to take interview sessions. Final selection will be done on the basis of the performance of both phases. In case the government job aspirants have decided to appear in the Punjab Patwari exam 2021, they should be well-versed with the latest Punjab Patwari Syllabus and Exam pattern for targeted coaching or study pattern. Written exam demands a proficient and dedicated study plan to ace the exam with a high score.
| | |
| --- | --- |
| Release Date | January 14, 2021 |
| Last date | Extended from 11-02-2021 to 18-02-2021 |
| Last Date of Payment | Extended from 15-02-2021 to 22-02-2021 |
| Exam Date | May 2, 2021 |
| Admit Card | Yet to be announced |
Patwari and Irrigation Booking Clerk(Patwari) - Bachelor's degree in any discipline from a recognized university. The candidate must possess at least 120 Hours course with working experience in the use of Personal Computer or Information Technology in Office Productivity Applications or Desktop Publishing Applications from a recognized institution or a reputed institution, which is ISO 9001 certified. The candidate can either possesses at least 120 Hours' working experience in Computer Applications from a recognized institution or a Certificate of 'O' Level from the Department of Electronics Accreditation of Computer Course (in short DOEACC). The candidate must have matriculation with Punjabi as one of the subjects or its equivalent level. Additional requirement for Zilladars in Dept. of Water Resources is Degree Examination (Graduate Degree) or Equivalent from a recognized University/Institute with Second Division. The eligibility criteria table for the Punjab Patwari exam is given below:
| | |
| --- | --- |
| Educational Qualification | Bachelors Degree |
| Special Certificate | 120 Hours Computer Course |
| Mandatory Language | 10th with Punjabi |
The Exam will be conducted in MCQ (Multiple Choice Questions) format. OMR sheets will be used for answering the questions. The maximum marks allotted are 120 for 120 MCQs. The time allowed to complete the exam will be 2 hours. SSS board will follow negative marking for every wrong answer marked by the candidate with a penalty of 0.25 marks.
Punjab Patwari Written Exam
The exam pattern to be followed by Punjab Patwari 2021 exam is given below in the tabular form for your ready reference. Kindly go through it and practice for the exam accordingly.
S.No.

Name of the Section

Number of MCQs

Maximum Time Allowed

1

General Knowledge

20

2 HOURS

2

Mental Ability

15

3

Quantitative Ability

30

4

English Language

10

5

Punjabi Language

10

6

Information Technology

15

7

Agriculture

10

8

Punjab History and culture

10

Total

120
Aspirants must know the detailed subject-wise syllabus for Punjab Patwari before joining Punjab patwari coaching in Chandigarh. Kindly refer to the table given below for quick reference:
S.
No.

Topic

Syllabus

1.

General Knowledge/Awareness (India & Punjab)

Current Affairs, History & Geography of India, its Physical Features, Climate, Demography, It's Economic and Social Development, Poverty Alleviation, Economic Planning. Knowledge related to Political and Scientific fields, Sports, Cinema and Literature, etc. Important Events, Freedom and Social Movements and their Leaders of India and Punjab. Constitutional & Administrative law, its Features, Central and State Executive, Judicial System, Centre-State Relation Citizenship,
Fundamental Rights & Duties of the citizens.

2.

Mental Ability

Problems on Logical thinking, Alphanumeric Series, Coding & Decoding problems, Letter & Number Series, Blood relation puzzles, Odd Man Out problems, Analogy problems, Common Sense Test, problems on Alphabetical Arrangement of Words, Date and Calendar problems, Sense of Direction problems, Ranking and Sitting
arrangements.

3.

Quantitative Ability

Mensuration of Rectangles, Square, Triangles, Trapezium, Rhombus, Pentagons, Circle, etc. Units of measurement land and their conversion.
Percentage, Profit and Loss, Interest, Divisibility Test, Simplification
Problems, Problems on Ratio & Proportions, Data Interpretation, Time and Work, Time and Distance, Calendar, Clocks, Trains, Problems on Age.

4.

Languages (English and Punjabi)

Basic Grammar, Subject and Verb, Adjectives, and Adverbs, Synonyms, Antonyms, One Word Substitution, Fill in the Blanks, Problem concerning words, Comparison of Adjectives, Articles, Prepositions, Direct and Indirect Speech, Active and Passive Voice, Correction in Sentences, Gender, Singular and Plural,
Idioms and their meanings, Reading comprehension, Spell Checks, etc.

5.


Information Technology

Basics of Computers, Working of Mobile Phones and personal digital Gadgets, Introduction to wireless technology in day-to-day communication, Fundamentals of Computers and Networks, Internet and Cyber Laws, Malware, Concepts related to GPS, Geo-fencing, Understanding emails/SMS/ messengers & tracing, Use of Office Productivity Tools such as MS Word, PowerPoint,
spreadsheets, Database Management.

6.

Agriculture

Rabi and Kharif crops their sowing period and varieties etc., Soils of Punjab, Agroforestry, Irrigation System, Agro-Based Industry, Food Processing, Harmful/ Friendly insects and animals to agriculture, Contribution of agriculture in economic
development and Institutions related to Agricultural Development.

7.

Punjab History and Culture

Sufis, Saints and Gurus, Lodhis and Mughals, Sikh Rulers, The British Period, National Movement in Punjab, Punjab in Independent India, Major personalities in
history of Punjab, Punjabi literature, folklore, performing arts, and crafts.
The Punjab Patwari Exam will be conducted in offline mode at various centers all over Punjab. Aspirants can choose the locations while applying online for the exam. There may be non-availability of seats at the choicest location but the same can be adjusted by the Director, Land Records, and will allot accordingly.
Director, Land Records is authorized to add or remove an exam center. No further requests will be entertained one the exam center allotted to the candidate. The list of expected centers is given below:
| | |
| --- | --- |
| Jalandhar | Amritsar |
| Ludhiana | Chandigarh |
| Patiala | Pathankot |
| Mohali | |
Choose cautiously to suit your location and availability.
The admit card and call letter for Punjab Patwari 2021 will be obtainable by visiting the official website. The link for the same will be provided by PSSSB. One can follow the same and download the card and letter by using the login id and password generated at the time of registration for the exam. There will be no hard copy issued by PSSSB to the candidate, therefore keep a track of the email notifications of PSSSB from time to time to download the same, or else you may lose the golden opportunity. Aspirants must check the details on the admit card before downloading to avoid any inconvenience at the examination hall.
The results of Punjab Patwari will be released once the examination process is over, PSSSB will prepare a state-wise merit list and category-wise list of the successful candidates in the decreasing order. The merit list will be based on the performance of the candidates in the examination.
Ques. How to apply for Punjab SSSB Patwari Posts?
Ans. Eligible candidates can apply for the PSSSB Patwari posts by filling in the Online application form by visiting the Official Website of the PSSSC Selection Board. Visit IBT to join Punjab Patwari Coaching in Chandigarh.

Ques. May I know the last date to apply Online for PSSSC Patwari Recruitment 2021?
Ans. The last date to apply for PSSSC Patwari Recruitment 2021 is 18 February 2021.

Ques. What is the essential qualification for Punjab Subordinate Services Selection Board 1152 Posts Patwari Recruitment 2021?
Ans. A candidate must have passed a degree in any discipline from a recognized university.

Ques. May I know the Age Limit for Punjab Patwari Recruitment 2021?
Ans. An aspirant should have a minimum age of 18 years and maximum age should be 37 years on 1st Jan 2021.

Que. May I know the starting date of the Application Process for Punjab Patwari Recruitment?
Ans. The starting date for the online application of Punjab Patwari is 14 January.
Punjab Govt Jobs Latest Recruitment Notifications
Punjab Govt Jobs Notifications 2021(40000+ Vacancies) Are you located in Punjab and looking for Govt Jobs in Punjab? If yes, then you have reached the right destination. Punjab has always offered the best possible career opportunities for Government Job aspirants who are aiming for a respectable Government Job. We provide the latest information about Punjab Govt Jobs Notifications, Eligibility Criteria, Exam Date, Syllabus, and Pattern. This page provides all types of notificat